People hear the sentence 'HMO licensing requirements' and tend to react in 2 ways….
 1.       Completely shut down as the topic does not exactly exude excitement
 2.       Enter shear panic mode and think they will never be able to understand this complicated matter
 Whilst I may be guilty of reacting in both ways in the past, with all the recent changes regarding HMO's, I decided, (or more accurately it was necessary) that it was about time to learn everything there was to know about the changes. If you are reading this and thinking, "I had absolutely no idea any changes had been made", do not worry, there are lots of people in the same boat. These changes have not exactly been well advertised, and you still have plenty of time to do something about it. So, read on and we I will go through my understanding of the recent changes regarding HMO licensing requirements.
 Let's start simple, what is an HMO? HMO stands for houses in multiple occupation and can be defined as - an entire house or flat, which is let to 3 or more tenants that make up 2 or more households, who share a kitchen, bathroom or toilet. In layman's terms this means if 3 or more tenants are living in a property, they need to be related in order for it to be excluded as an HMO. To rent out an HMO you now need to have a licence.
 Previously, only Large HMO's needed what is called a mandatory licence. Mandatory licences were introduced so that properties were required to meet certain standards for the number of people living there, such as room sizes, fire safety measures and number of shared amenities. This has now led onto 'Additional Licencing'. The additional licence scheme has been adopted by BANES Council to ensure that the same safety standards are met with smaller shared properties as the larger HMO's, along with the impact HMO's may have on the surrounding properties and neighbourhood, and to ensure whoever manages the property is 'fit and proper' to do so. The changes are coming into effect 1st January 2019. Therefore, BANES are asking people to apply from the end of November 2018.
 You will need to apply for an HMO Licence if your rental property is:
 ·         Occupied by three or four people from two or more households e.g. three professional sharers, a couple and an unrelated third tenant, three students etc. who share basic amenities.
 ·         In the boundary of the city of Bath. See map below.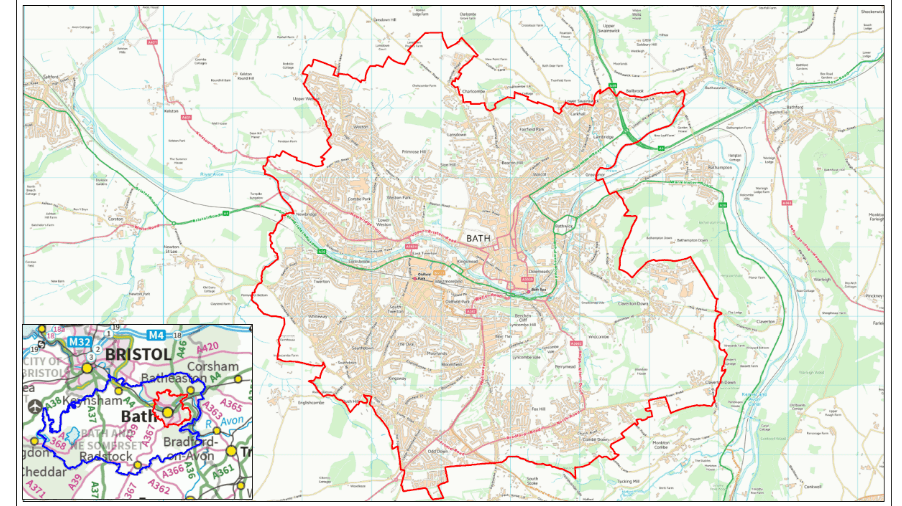 There are a few exemptions to the rule such as charitable organisations and educational facilities, but if you are unsure whether your property is exempt from these changes, get confirmation from Bath Council.
Type of HMO

 

The Changes

When do I have to apply?

3/4-person HMO and do not already hold a licence

You need to apply for an Additional HMO Licence

From end of November 2018

Deadline 31 December 2018

5 or more-person HMO already holding an Additional HMO licence

You need to apply for a

Mandatory HMO licence

From end of November 2018

Deadline 31 December 2018

5 or more-person HMO already holding a mandatory HMO licence

None

When the current licence expires
Table showing the changes that will be made to the different types of HMO
---
So, if your rental property will require an HMO licence what does this mean for you?  Firstly, additional HMO licencing is not optional. Failure to hold a licence for every individual HMO property can result in an unlimited fine, so it is vital to submit a valid application before 31st December 2018. There is of course a cost involved payable to the council (and it's not cheap) to submit this application. The licence granted will be valid for, up to, 5 years and then there is, again of course, a renewal cost (also not cheap). Once you have submitted your application the council will come and inspect the property to inform you of any alteration needed to comply with regulations. These may be things such as:
 ·         Mains powered interlinked with battery back up smoke and heat detectors.
·         Fire blankets
·         Thumb style locks on all final exit doors (so tenants can exit without the need to use a key)
·         Utility meters boxed in using an appropriate fire-retardant material
·         Emergency lighting
·         Compliant fire doors
Once it has been determined what things need to be done to meet the licencing standards, a condition will be put on your licence and you will then be given a timescale in order to meet the requirements. This will probably be between 6-12 months, but this has been kept, unsurprisingly, quite vague.
 Along with ensuring your property is up to standard, the manager, and licence holder of the property also need to meet minimum requirements. They will therefore need to complete:
 ·         A DBS check (A criminal records check)
 ·         A Fit and Proper Persons form from the council
 ·         A Fire Risk Assessment
Finally, a number of elements will need to be displayed in the property, such as what to do in case of fire, the contact details of the person managing the property, an up-to-date gas safety certificate etc.
 Now, having read the sentence 'HMO licensing requirements' in this blog, probably too many times for anyone's liking, how are you reacting?
 1.       Completely shut down as the topic does not exactly exude excitement
 2.       Enter shear panic mode and think they will never be able to understand this complicated matter
 I would not be at all surprised if point 1 still applies, but hopefully I have helped you slightly clear up point 2. Although you will probably have many more questions regarding how the new licencing will affect you, and you will probably be feeling a twinge of panic, we are here to help. We are currently getting all our affected landlords through these changes and we can help you through the process too.  We will happily have a chat with you, visit your property and even help you complete the online application if you would like us too. So, get in touch today by calling the office on 01225 840 007 or reach out to us on any of our social platforms - we would love to know what you think of the changes and if it will/has affected you.