Scandinavian interiors have long-been adored across the globe for their neutral, minimal, and simple design aesthetic. However, with all such long-lasting styles, Scandi design is experiencing a revolution, bringing with it new dramatic tones, bold colours and statement textures. This moodier twist on Scandi style is know as 'New Nordic', and whilst it brings more dimension to the classic design, this isn't at the expense of the regions core values – namely high-quality production and sustainability. So, if you're excited about venturing to the dark side of Scandi style, read our tips on how to nail the latest interior design trend.
COLOUR
When you hear the term 'Scandinavian Design' its likely you will think of monochromatic whites, maybe with a hint of grey or black thrown in for good measure. With New Nordic, the colour palette has evolved to include earthier shades such as burnt oranges and blush pinks, and darker muted tones such as deep blues and forest greens, that are inspired by nature.  These add just the right amount of colour and warmth to a Scandi home, while keeping spaces clean and stylish. If you're feeling brave use these desaturated colours as you would a neutral, to create a background to your room, or if you just want to dip your toe in the water, use them to highlight certain areas of your room.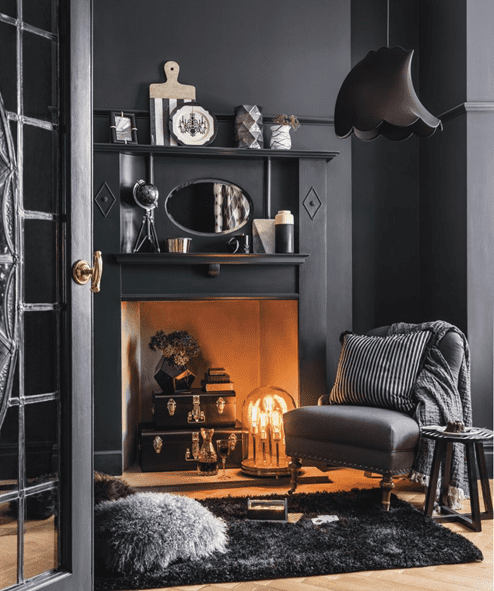 TEXTURE
Cosiness is king when it comes to Scandi design, and New Nordic has embraced this - adding texture is an easy way to achieve that feeling of hygge. As the design aesthetic tends to be kept quite simplistic, a lot of interest comes from adding multiple textures. Use a mixture of materials distributed around your space through curtains, cushions, rugs, throws and pouffes, layering them to create a bit of character and for greater effect. Try and stick to natural materials such as wool, linen, mohair, jute and faux-furs and opt for muted or earthy tones to keep that sense of minimalism. But don't forget to embrace the cosiness - why have one blanket when you can three?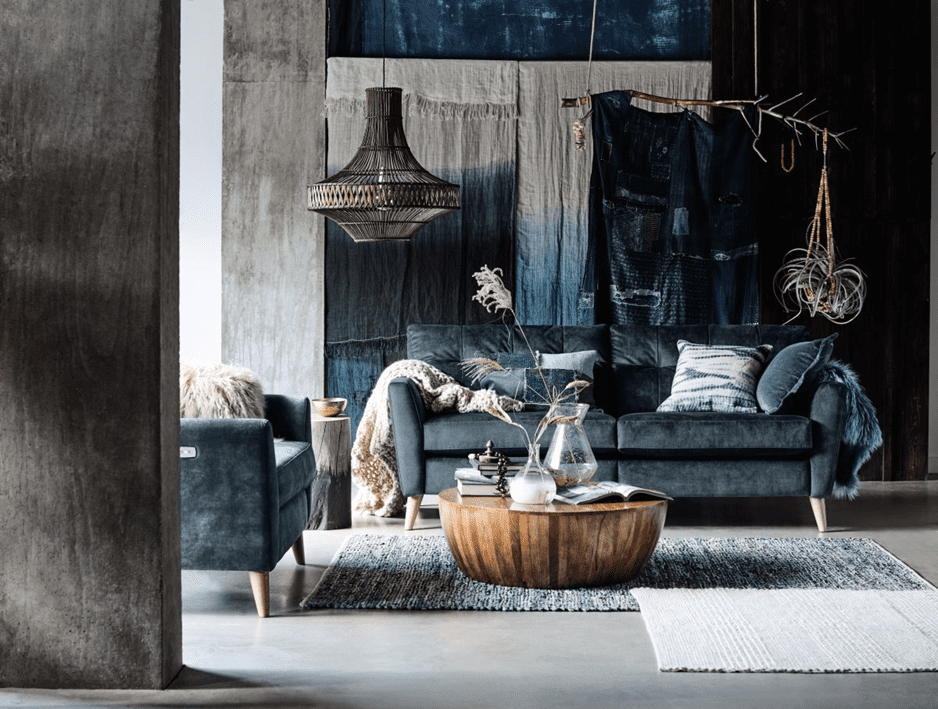 WALLS
Walls are no longer just a backdrop for the rest of your design, New Nordic embraces them as part of the décor themselves. Utilise interesting textures, such as a limewashed finish, micro cement, chalky paint, wood panelling, or exposed stone walls to add a rustic element to your interior.  Or go even bolder and add a botanical, or mineral-like wallpaper, while still keeping the essence of nature that is so important to the New Nordic design concept.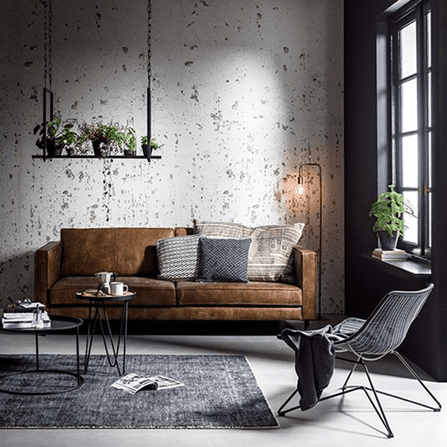 FURNITURE
Functionality, clean lines, comfort and simple structures are key to Scandi style furniture. New Nordic keeps these basic principles but allows furniture to stand out more by bringing in statement pieces. Wood is a prominent choice for material, with a favour for lighter and more natural finishes such as beechwood and white pine, contrasting against the darker and more gothic colour palette. Additional elemental materials such as soft leathers, brass, rattan and stone are also used to enhance that rustic feel, whilst still keeping a warmth to the space. The good thing about New Nordic is that nothing has to be perfect, so upcycled pieces of furniture, or recycled antiques are more desirable than mass-produced items. Find a new use from an old item to personalise your space and make a statement, with your personalised furniture pieces.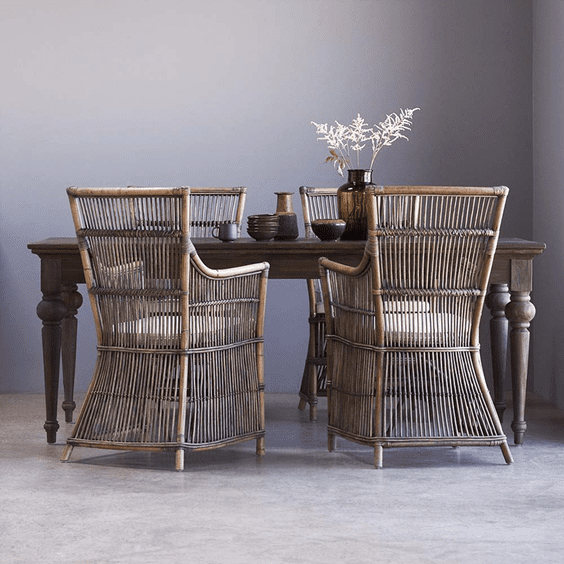 LIGHTING
Lighting plays a key role in any interior, and New Nordic is heavily focused on creating natural and cosy lighting. Overhead lights are often too bright to create a homely feel, so using multiple light sources such as floor lamps, table lamps and fairy lights are an ideal alternative to create the soft glow you're aiming for. However, the undisputed king of New Nordic lighting is the humble candle. The warm radiance of a candle creates an inviting atmosphere that cannot be replicated by anything else.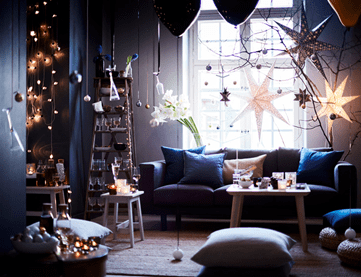 ACCESSORIES & PLANTS
The final twist New Nordic brings to classic Scandi Style comes from the accessories. Using a mixture of old and new, interesting and mundane, in a simple colour palette. New Nordic masters accessorising without cluttering a space. Yet again, use natural, and raw materials such as wood, ceramic, brass and silver. Add interest, using sculptural shapes, geometric patterns and abstract art, and set these against more simple items such as white candles, and macrame wall hangings to not overwhelm the space. Overwhelming spaces are not relaxing, so create some closed storage solutions and strip away any visual chaos.
In the last few years plants have become the go-to accessory in interior décor and New Nordic is no different – not only do they look nice, but they also improve the air-quality in your home and are proven to have stress-reducing qualities. If, like me you're not naturally blessed with a green-thumb, opt for dried branches, or flowers such as pampas grass, or cotton stems.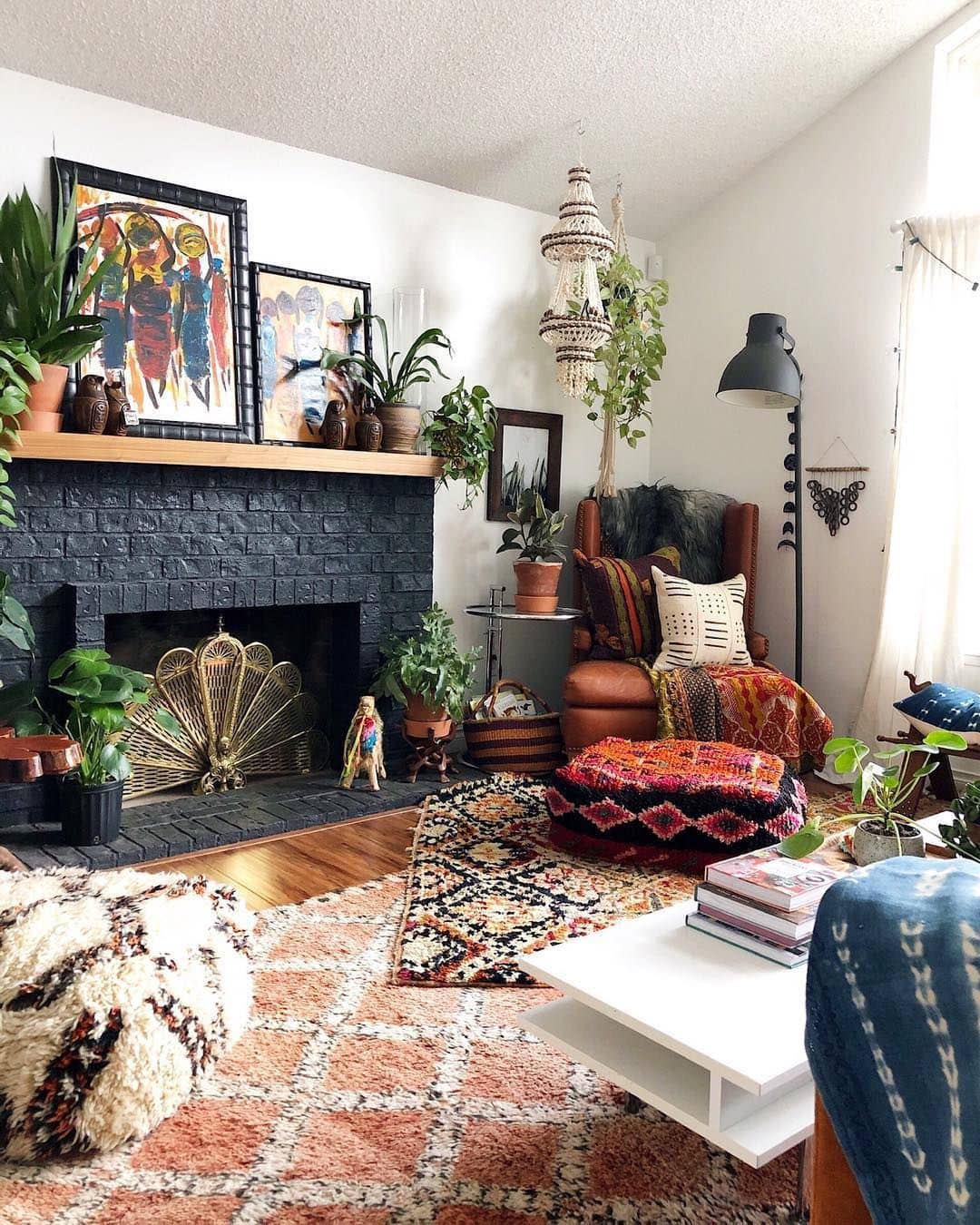 New Nordic is the moodier and bolder cousin of the Scandi style scene, and whilst I love the brave dark colours, and statement furniture and accessories, make sure you don't lose the core concept of hygge when designing your spaces. Each room needs to be a sanctuary you can sink into after a stressful day, and every item in it should increase your feeling of warmth, comfort and security. When styling our homes, prioritising simplicity, modesty, functionality and above all else, happiness, will hopefully lead you to enjoy the environment around you and feel the hygge-ness that is so essential to nail New Nordic design.
If you would like to learn more about the concept hygge, then read our blog post on how to hygge up your home.